Related eBooks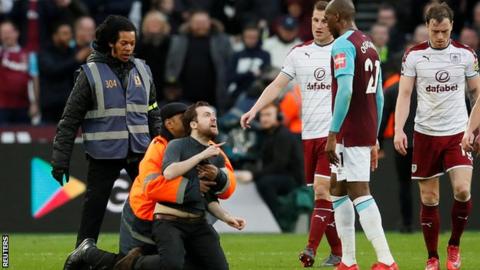 West Ham's joint chairman David Sullivan was hit by a coin during fan protests in the defeat by Burnley and the club could be relegated if the "aggressive" atmosphere continues, says ex-Hammers striker Sir Trevor Brooking.
The club have launched an inquiry after a number of fans invaded the pitch in the 3-0 home loss on Saturday.
"Just don't come to the games at the moment until you try to allow the players to get the points to stay up," Brooking told BBC Radio 5 live's Sportsweek.
Brooking said the first goal scored by Burnley striker Ashley Barnes "triggered problems" and "there was a quite sizeable group then below the directors' box that came to chant in a really aggressive manner".
He added: "Before the final whistle, two of the directors went upstairs – were asked by the security people to do so.
"I think a coin did hit David Sullivan on his glasses. I didn't see it but I did have that confirmed, which was part of the reason why they thought people in the directors' box should go inside to save any more problems like that."
At least two fans went on to the pitch at London Stadium after Burnley took the lead – with one approaching West Ham captain Mark Noble.
Another fan ran on with a corner flag shortly after Burnley scored their second goal, with further incursions after the visitors struck a late third.
Noble described the atmosphere at London Stadium as "horrible".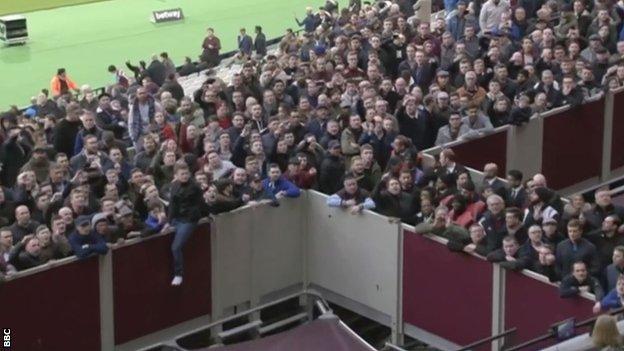 West Ham are three points and two place above the relegation zone after losing to Burnley and their next game is at home to fellow strugglers Southampton.
"Before yesterday they had six home games out of nine, which to a certain extent looked an advantage," Brooking added.
"When you've just lost 3-0, had people coming on to the pitch and a lot of people venting their frustration to the directors – that means the next five games at home look pretty bleak.
"There is no way the team is going to play and get the points to stay up under that sort of atmosphere. It is impossible.
"That atmosphere must never come back in the last five games otherwise the club is in serious trouble and the players won't be able to deliver.
"I saw some families leaving because the youngsters were frightened.
"The level of aggression was something I couldn't believe a West Ham fan would get involved in.
"All I would say, between now and the end of the season is, 'anyone who has got that aggressive frustration just don't come to the five home games that are left' because we need everyone – all the fans and the team – all working together to try to get sufficient results."
More to follow.