Related eBooks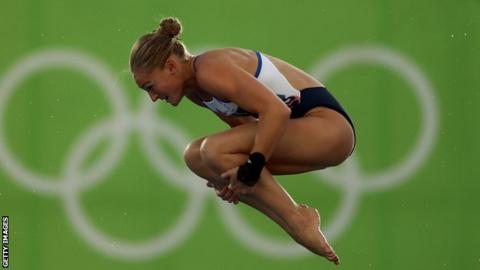 When Sarah Barrow walked away from the pool and into the changing rooms in Rio last year she knew she was at a life crossroads.
The former European 10m individual and synchro champion was ending her 16-year career as a diver and going into the real world.
Having been one of the country's most successful female divers, she began studying for a master's degree in sports journalism and took an internship at a prestigious magazine company in London.
But while on the outside she seemed to have everything going for her, inside the 29-year-old still craved the sporting environment.
"I felt quite alone while I was there," the Plymouth native told BBC Sport.
"The atmosphere's nothing like at the diving pool. You're in offices, you're with people who perhaps are not that interested in sport, they're there to do what they want to do."
Ireland calls
As Barrow mulled over what to do she met Irish coach Damian Ball and was offered the chance to get back into the sport she loves.
She upped sticks from one capital city to another and now works in Dublin as a coach and the diving programme manager at Ireland's National Aquatic Centre.
"I didn't search for this opportunity, it came to me, so I took it with both hands.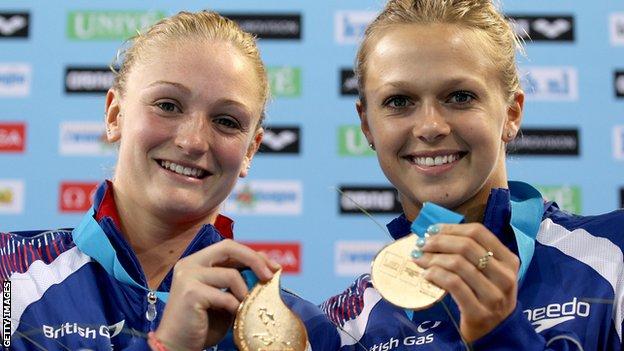 "You never get that same buzz that you did in competition and training, but this is probably the closest to it.
"As soon as I stepped back into the diving pool it felt completely normal again and right.
"I'm excited to go into work now, whereas before it was just a thing to do."
Future of British diving coaching
Barrow was part of a stellar aquatic set-up in her home town Plymouth, where she trained alongside two-time world champion Tom Daley and fellow international Tonia Couch, with whom she won the 2012 European synchro title.
They were mentored by coach Andy Banks, while further down the poolside Jon Rudd masterminded 2012 Olympic breaststroke champion Ruta Meilutyte's career.
But now few are left in Devon – Daley left for London after 2012, Meilutyte is back home after Rudd also made the switch to Ireland to take over their national swimming programme, while Banks moved to Australia to coach their national side.
Meanwhile in Leeds, where Barrow used to train and study, Adrian Hinchliffe – the mastermind behind Jack Laugher and Chris Mear's gold medal in Rio last summer, also left for the Australian programme.
Sarah Barrow's diving career
2014 European 10m champion – the first British woman to win an individual title since 1927
2012 European 10m synchro champion with Tonia Couch
2014 Commonwealth Games 10m synchro silver medallist with Tonia Couch
2012 Olympic 10m synchro finalist with Tonia Crouch
13-time British champion
"Diving in Britain has lost a lot of high-end coaches and that's something that British swimming should be looking at," says Barrow.
"Change is good, now there's a big hole for upcoming diving coaches in Britain, there's a few of them that are trying to reach that spot.
"It's going to be a lot of hard work to make sure British diving stays as excellent as it has been."
So could Barrow one day return to the UK and help the next generation inspired by the likes of herself and Daley to plunge 10m into a pool?
"Myself, Tonia (Couch) and Claire Wonnacott, who also coaches in Plymouth, between us we've always had the idea of keeping Andy Banks' legacy at Plymouth Diving going, it would be such a shame if it didn't.
"Tonia and Claire are working there now and although no-one knows what the future will bring, it would be nice if at some point I ended up there."
But in the meantime Barrow is happy in Dublin and happy to be standing at the side of the boards looking up, rather than at the top looking down.
"Diving grabbed me back into it, and why not when you've got so much experience.
"It's been a year since I dived off a diving board. I did have a bit of temptation, but I don't think I'd get out of the pool in one piece if I did.
"I still train and go to the gym a lot, so maybe in a couple of years who knows."