Related eBooks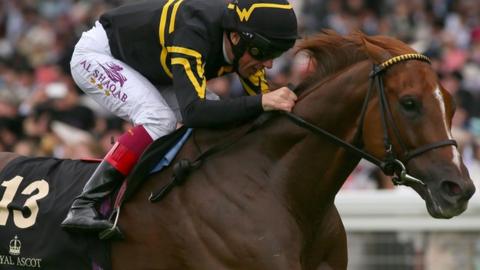 The five-day Royal Ascot meeting includes eight Group One races, with the feature race starting at 16:20 BST each day.
The annual event attracts some of the best thoroughbreds, jockeys and trainers in the world.
It is also known for its attention-grabbing display of hats.
You can follow the latest news and selected race commentaries on BBC Radio 5 live sports extra.
Tuesday 14 June
Full race schedule: (Time, race, status, distance)
14.30 The Queen Anne Stakes (Group 1) 1m
15.05 The Coventry Stakes (Group 2) 6f
15.40 The King's Stand Stakes (Group 1) 5f
16.20 The St James's Palace Stakes (Group 1) 1m
17.00 The Ascot Stakes (Handicap) 2 ½m
17.35 The Windsor Castle Stakes (Listed) 5f
Wednesday 15 June
Full race schedule: (Time, race, status, distance)
14.30 The Jersey Stakes (Group 3) 7f
15.05 The Queen Mary Stakes (Group 2) 5f
15.40 The Duke of Cambridge Stakes (Group 2) 1m
16.20 The Prince of Wales's Stakes (Group 1) 1 ¼m
17.00 The Royal Hunt Cup (Heritage Handicap) 1m
17.35 The Sandringham Stakes (Listed) (Handicap) 1m
Thursday 16 June
Full race schedule: (Time, race, status, distance)
14.30 The Norfolk Stakes (Group 2) 5f
15.05 The Tercentenary Stakes (Group 3) 1 ¼m
15.40 The Ribblesdale Stakes (Group 2) 1 ½m
16.20 The Gold Cup (Group 1) 2 ½m
17.00 The Britannia Stakes (Heritage Handicap) 1m
17.35 The King George V Stakes (Handicap) 1 ½m
Friday 17 June
Full race schedule: (Time, race, status, distance)
14.30 The Albany Stakes (Group 3) 6f
15.05 The King Edward VII Stakes (Group 2) 1 ½m
15.40 The Commonwealth Cup (Group 1) 6f
16.20 The Coronation Stakes (Group 1) 1m
17.00 The Duke of Edinburgh Stakes (Handicap) 1 ½m
17.35 The Queen's Vase (Listed) 2m
Saturday 18 June
Full race schedule: (Time, race, status, distance)
14.30 The Chesham Stakes (Listed) 7f
15.05 The Wolferton Rated Stakes (Listed) 1 ¼m
15.40 The Hardwicke Stakes (Group 2) 1 ½m
16.20 The Diamond Jubilee Stakes (Group 1) 6f
17.00 The Wokingham Stakes (Heritage Handicap) 6f
17.35 The Queen Alexandra Stakes (Conditions) 2m 6f