Related eBooks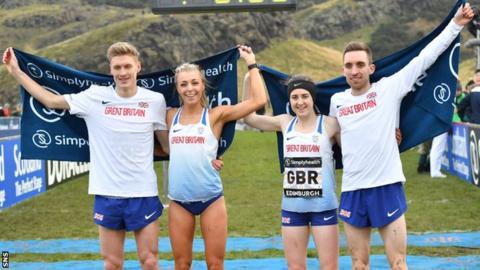 Laura Muir anchored Great Britain to victory in the Great Edinburgh Cross Country mixed team relay as Leonard Korir and Yasemin Can retained the men's and women's titles respectively.
Former European cross-country champion Muir took over from Adam Clarke for the final lap behind Europe and Belgium.
But the 24-year-old Scot made up the ground to win by seven seconds.
It was not enough to secure the overall team event, with GB finishing third behind Europe and the United States.
Muir has spoken at length about her decision not to take part in the Commonwealth Games in April because the event in Australia's Gold Coast clashes with her final exams in veterinary studies at the University of Glasgow.
"So it's just a matter of getting it all done now this year and hopefully winning a medal at the world indoors, and graduating as a vet and then hopefully medalling at the Europeans as well," she told BBC Sport after crossing the finishing line.
"It is very tough, but you've just got to have good time management.
"When your priorities are running and veterinary, that's all you do."
It was the second year in a row that Muir, who led Scotland to victory in 2016, had anchored GB in the mixed 1,000m relay.
Without Muir in their ranks, Scotland A finished fifth behind the GB team – which also contained Alex Bell and Tom Marshall – Belgium, Europe and Ireland.
"It was quite tough," she added. "I knew when Adam came round and he was close to the front, I thought I've got to work hard and make sure.
"So I got to the front and left a little bit in the tank until the end and put the foot down in the last 200 and came away with the win – so very pleased."
Gorecka happy to run Can close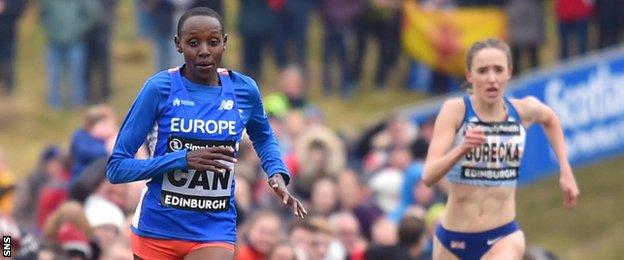 England's Emelia Gorecka provided a reminder of her promise as a junior as she gave Can a close race in the women's 6km event.
Keyna-born 21-year-old Can, who now competes for Turkey and was representing Europe, won by 21 seconds last year.
However, 23-year-old Gorecka was only two seconds adrift of the European 10,000m and 5,000m champion as she finished in 20:58, with Molly Seidel of the USA another four seconds back in third.
Gorecka, a former European junior champion in cross country and 3,000m champion, said: "I can't not be happy. As the race got going I thought I could be top five or top three and I was second and so close to first.
"It was a world-class field and I'm over the moon to be second, and by such a small margin as well."
Patience pays off again for Korir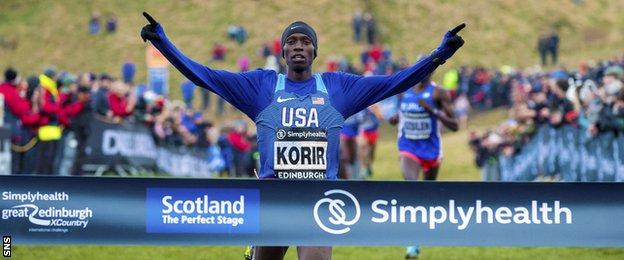 Korir won the men's 8km title last year in a dramatic sprint finish against Scotland's Callum Hawkins and the 31-year-old, competing for the USA, repeated the tactics to win again.
Kaan Kigen Ozbilen, the 2016 European half-marathon silver medallist who now competes for Turkey, was the victim this time.
The two Kenya-born runners broke clear of the leading pack in the latter stages, with Ozbilen leading until Korir sped away in the final metres to win by three seconds.
Korir, whose time of 24:32 was 29 seconds slower than last year, said: "Last year, when I went home, I said I must come back and, when I said I must come back, I said I must win again and I am so happy.
"If you go out hard at the start, it will take it out of you, so you have to be patient and be ready for the final kick."
Aras Kaya, another Keyna-born athlete now based in Turkey, finished third for Europe, with Ben Connor the best-placed Briton in fifth.