Related eBooks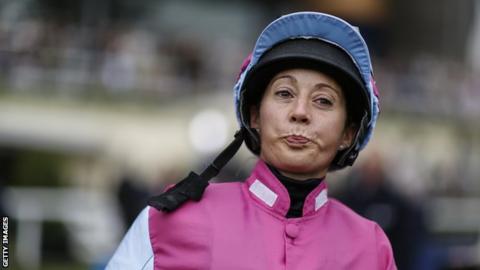 Jockey Hayley Turner is to face a British Horseracing Authority inquiry for a breach of betting rules.
British flat racing's most successful female jockey is said to be "devastated and deeply embarrassed" after staking 164 bets – making a profit of £160 – over an 18-month period.
Turner, 34, retired in 2015 but kept her licence, so the bets technically placed her in breach of the rules.
The two-time winner at Group One level will face a hearing on 14 December.
Turner made the bets – which had an average stake of £18.62 – before returning to racing on a more regular basis earlier this year, said Professional Jockeys' Association chief executive Paul Struthers.
He said she initially only retained her licence so she could take part in invitational events and "no longer saw herself as a jockey".
"Hayley has co-operated fully and has been transparent and honest throughout," he added.
"The BHA has confirmed to Hayley's representatives that beyond the rule breaches themselves, it has no further integrity concerns over the bets or Hayley herself."
Analysis
BBC racing correspondent Cornelius Lysaght
Since her breakthrough, Hayley Turner has become something of a 'golden girl' in what had been seen previously as a male-dominated sport.
She's been joint champion apprentice jockey, the first female rider in Britain to have 100 successes in a year and she enjoyed a golden summer in 2011 wth two Group One race wins; her exploits have been credited with encouraging more female jockeys.
The rules are strict, however, and though disciplinary panels have been gaining a reputation for their independence, the recommendation on conviction for this type of breach is a suspension of three months-plus.