Related eBooks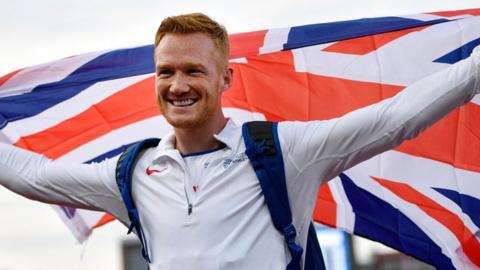 Great City Games Manchester
Venue: Deansgate & Albert Square, Manchester Time: 16:45-19:30 BST
Coverage: Live on BBC Two and BBC Two HD from 1800-19:30 BST
Former Olympic champion Greg Rutherford says Friday's Great City Games can show the world a united Manchester in the face of Monday's attack.
The event, which is staged in the city centre, was given the go-ahead by council and police on Tuesday.
"It will be amazing to see people come out and get behind it, not just for the sport but to show they're not going to let terrorists win," said Rutherford.
Twenty-two people were killed by a suicide bomber at a concert this week.
Another 116 people were injured in the explosion as the crowd left a performance by US singer Ariana Grande at the Manchester Arena.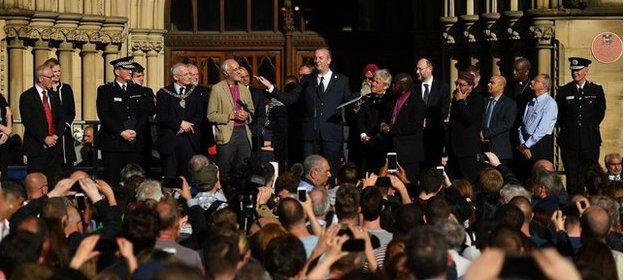 Rutherford, who won gold at London 2012, will be making his first competitive appearance of 2017 at Friday's event. The long jump is being staged in Albert Square where thousands of people attended a vigil on Tuesday evening for those who died.
"After such a tragic and heinous event, I think it's important that everybody comes together and shows it's not going to stop people leading a normal life," said Rutherford.
"That seems to be the overriding sense from everybody here. I think it's wonderful that it's still going ahead and I hope it will be a lovely tribute to those who lost their lives and those injured in the attack."
The long jump begins at 18:00 BST with two-time world silver medallist Ignisious Gaisah among Rutherford's competition.
'Everyone seems to have love for each other' – Peacock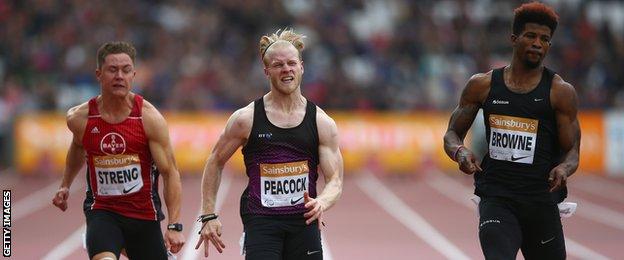 Two-time Paralympic champion Jonnie Peacock praised the way Manchester had reacted to the bombing, which police say was carried out by 22-year-old Salman Abedi.
"I was so proud to see how Manchester responded, how people have come together, how there doesn't seem to be any hate, how everyone seems to have love for each other," he said.
"That is the most important thing we need to do at times like this. Events like this give us a chance to cheer and to emote and have feelings.
"I think they give us the chance to show we can get up, stand up and continue as normal."
Peacock will be taking on T44 100m world champion Richard Browne for the first time since beating his American rival in a similar street athletics event in Gateshead in 2015.
Browne missed the Paralympics in Rio saying that he was not "mentally and physically prepared", before briefly retiring and then returning to the sport.
"Richard is full of so much talent, he is the current world record holder and the world champion. He is a great guy," said Peacock.
"But if we are going off what he says then tomorrow he is going to wipe the floor with everyone and run 10.2 seconds – four tenths faster than he ever has before.
"I'm very excited to see that happen."
Browne has predicted that whatever the result in Manchester, he will be victorious come the World Para Athletics Championships in London in July.
"I think it is going to be fun, but I don't think he's [Peacock] going to win," he told the Paralympic Movement website.
Cricket captain reassured by UK reaction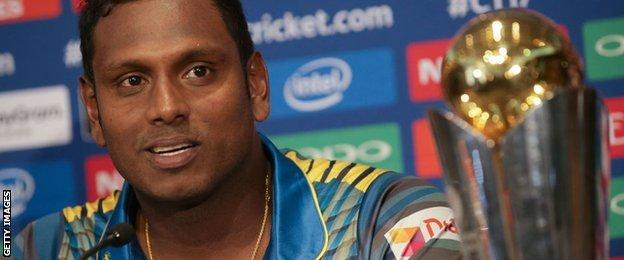 Security has been reviewed at many sporting events in light of the Manchester attack, including cricket's Champions Trophy which begins on 1 June and is being played in London, Birmingham and Cardiff.
Sri Lanka captain Angelo Mathews made his Test debut in July 2009, four months after the team's bus was attacked by gunmen while en route to a match in Lahore, Pakistan.
Twenty-six years of civil war in the country ended in May the same year.
"We are deeply shocked and saddened by the incident in Manchester," he said.
"Our thoughts and prayers are with those affected. It's obviously horrifying; we had to go through 30 years of war and know how bad it is."
India captain Virat Kohli added: "I saw life resume pretty normally, and that's always a healthy sign. That's very reassuring."