Related eBooks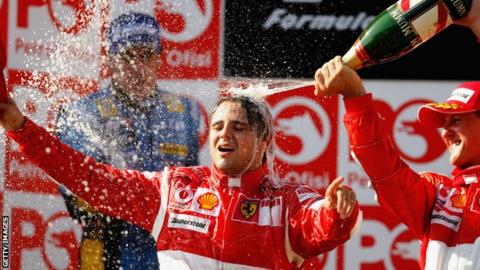 Sometimes retirement isn't always final.
At last year's Brazilian Grand Prix, Felipe Massa walked through the Interlagos pits after crashing his Williams and ended up in floods of tears as the crowd cheered wildly and members of other teams clapped and formed a guard of honour. He eventually fell into an embrace with his wife and son, and the tears fell faster still.
He had only one F1 race to come but, at his home race, where he had so nearly won the world championship in 2008, this was the real goodbye.
Or so we thought.
Less than three weeks later, newly crowned 2016 champion Nico Rosberg stunned just about everybody by announcing his immediate retirement and suddenly a vacancy had arisen at Mercedes.
By January 2017 it had been filled by Massa's Williams team-mate Valtteri Bottas, and the knock-on effect was that Massa was back – re-signing for Williams who wanted an experienced hand alongside teenage rookie Lance Stroll.
The Brazilian had sixth-place finishes in two of the first three races of this season but it's been fairly underwhelming since then – until a different kind of goodbye in his home city of Sao Paulo before he retires again.
Massa spent most of the race in close proximity to erstwhile Ferrari team-mate Fernando Alonso and just held off the McLaren man to cross the line in seventh, which meant he got to say goodbye to Interlagos by taking the chequered flag.
During the slowing-down lap, Massa's son, Felipinho, came on the team radio and said: "Daddy, I am so proud of you. Wherever you go, I will support you. By the way, I love your start."
It was classic Massa. Warm, emotional and real – it demonstrated the family man who people warmed to because of his humanity.
This time, he insists, there is no going back on his decision to stop after next Sunday's season-ending Abu Dhabi Grand Prix.
Losing the world title – and nearly losing his life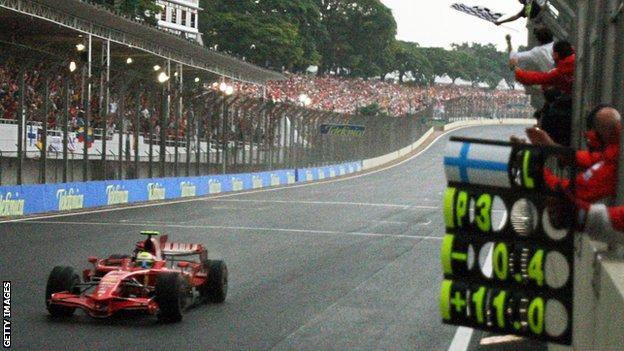 Massa's impending departure a means that, as it stands, there will be no Brazilian drivers in F1 next season. That hasn't happened since the 1960s and in the ensuing period the nation has produced multiple world champions Emerson Fittipaldi, Nelson Piquet and Ayrton Senna.
The 36-year-old's achievements might not compare with those greats but he still has a fair bit to be proud of.
Only five men – Rubens Barrichello, Jenson Button, Michael Schumacher, Alonso and Kimi Raikkonen – have competed in more grands prix than Massa, who has 268 starts with one to come.
Only seven-time world champion Schumacher has started more races for Ferrari (Massa managed 139 from 2006-13).
And 11 wins among 41 podium finishes isn't too shabby either.
The last of those victories was nine years ago – at Interlagos of course – when he came within a few hundred metres of winning the world title.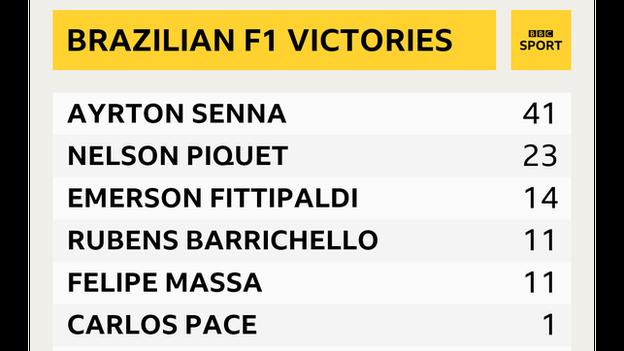 It was the moment that defined him. Not because he was the oh-so-nearly-man but by his reaction to heartbreak.
It is now F1 forklore that Massa was world champion when he crossed the line as the rain hammered down under blackened skies, only for Lewis Hamilton to pass Timo Glock's Toyota at the final corner to finish fifth and secure the extra point he needed to pip the Brazilian.
Massa was in tears when told the result over the team radio and remained so when he stepped onto the podium, beating his chest with pride at how he had performed with the drivers' championship on the line.
In 2009 he almost died during Hungarian Grand Prix qualifying when a spring on Barrichello's Brawn came loose, bounced down the track and smashed into Massa's helmet just above the eye while he travelled at 162mph. His skull was fractured and he was placed in a medically-induced coma but, thankfully, recovered and was back racing for the 2010 season.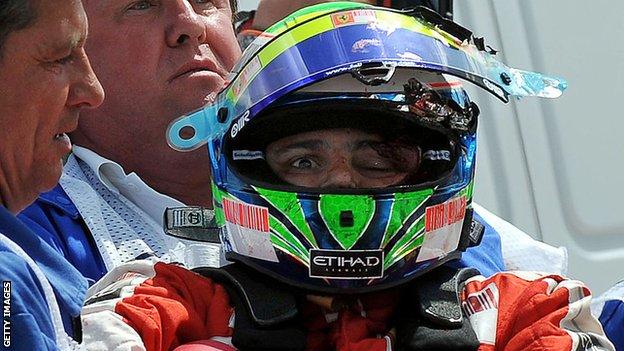 He had a new team-mate that year in Alonso and the German Grand Prix at Hockenheim gave us another incident that inspired huge sympathy for Massa. While leading the race, his race engineer Rob Smedley came over the radio and said: "OK, so, Fernando is faster than you. Can you confirm you understood that message?"
He did. And everyone watching did as Massa moved over to allow Alonso past and garner more points for his title challenge.
Speaking to his great friend Smedley last year for an interview on the Formula 1 website, Massa described that coded instruction (team orders were banned at the time) as "terrible, the worst" but his refusal to whinge or complain in the immediate aftermath spoke volumes about his character.
His final four years at Ferrari provided few highs as he was outperformed by Alonso and 2011 became most notable for six collisions with Hamilton, which led to a short feud between the drivers.
Williams became gradually less competitive during his four years with the team but there were some real highs in 2014 and 2015, including five podium finishes and a pole position at Austria in 2014. He also led the opening 20 laps of the 2015 British Grand Prix before being overhauled by eventual winner Hamilton.
In a long career that began with Sauber in 2002, his 11 wins were compressed into the peak years of 2006-08. Massa won every Turkish Grand Prix in that period and with that race off the F1 calendar since 2011, he may stand forever as the king of Istanbul Park as no other driver won it more than once in its seven stagings.
But, of course, winning at his beloved Interlagos in 2006 and 2008 are the two wins that stand out. As well as his two goodbyes at the circuit.
And so to Abu Dhabi and a final retirement.
We think.
Analysis – 'a true sportsman'
Chief F1 writer Andrew Benson
Massa is a lovely guy. Similar in many ways to his compatriot Rubens Barrichello. Warm, welcoming, engaged and engaging, always willing to give an answer on any subject, well aware that there are others – such as Alonso, with whom he spent four years as team-mates at Ferrari – with more talent and speed than him, but that, you know, he was not so bad himself.
When he crossed the line to win the 2008 Brazilian Grand Prix, he was world champion for a few seconds, until Lewis Hamilton took the title from under his nose.
His dignity that day won him admirers across the world, and defined him forever as a true sportsman, in the purest sense of the word.