Related eBooks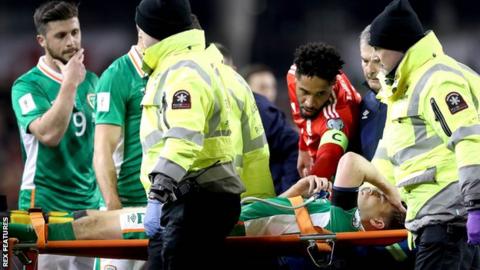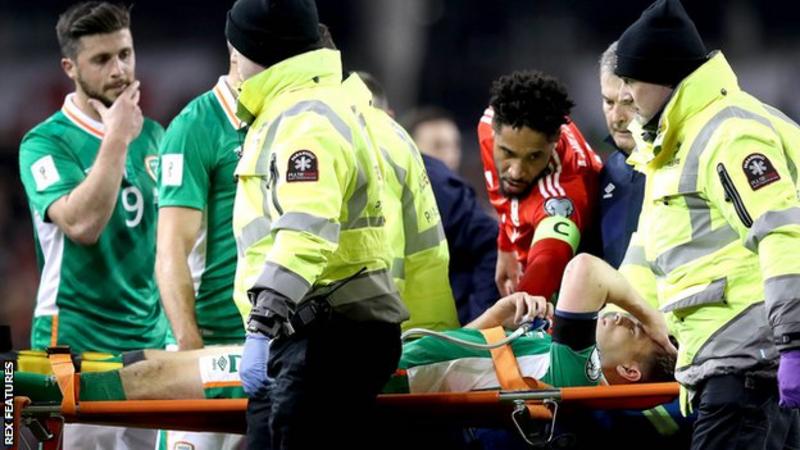 Republic of Ireland skipper Seamus Coleman suffered a broken leg in his side's goalless draw with Wales at the Aviva Stadium.
The Everton defender was given oxygen before being carried off following the challenge with Neil Taylor, who was sent off for the tackle.
The incident happened midway through the second half of the important World Cup qualifier.
Republic manager Martin O'Neill said the defender suffered a "bad break".
"He's a fantastic player and character," O'Neill told Sky Sports. "It's a major blow for the lad, his club and us.
"Apparently it wasn't the best challenge in the world – I haven't seen it. He's gone to hospital. I saw his reaction immediately and it didn't look good.
"He was holding his leg up and it didn't look good. At the end of it all the most important thing is Seamus' health."
Wales manager Chris Coleman said defender Taylor was "despondent" following the game.
"First and foremost, the most important thing is Seamus Coleman," he said. "We are told that it is not so good, which we are sorry for.
"Neil Taylor is not really that type of player, but it's a tough one for Seamus. Our thoughts are with him. I have not seen it again."
Everton midfielder James McCarthy was scheduled to start for the Republic, but was withdrawn from the team-sheet before kick-off due to a hamstring injury.
"You can train and feel OK – he didn't feel as if it was worth taking a chance," added O'Neill.
The draw in Dublin meant the Republic missed out on returning to the top of Group D, after Serbia beat Georgia earlier on Friday, with Wales four points behind in third.
Gareth Bale twice went close for Wales from long range, but the visitors had to withstand a spell of heavy pressure following Taylor's sending off.
Wales will also be without Real Madrid forward Bale when they visit Serbia on 11 June after he was booked for a foul on John O'Shea.
The Republic's next Group D qualifier is at home to Austria, also on 11 June.