Related eBooks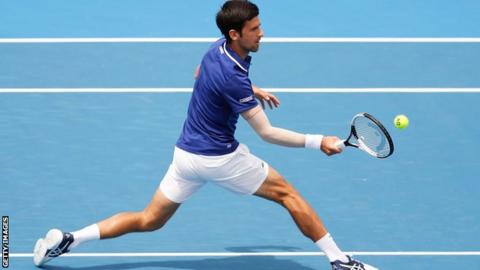 Former world number one Novak Djokovic says he intends to play in the Australian Open "for now".
The Serb returned after six months out with an elbow injury to win 6-1 6-4 against world number five Dominic Thiem, 25, at the Kooyong Classic.
The 30-year-old said he was "very happy with how it went" after his first competitive game since Wimbledon.
When asked if he will play in the Grand Slam that starts next week, he added: "For now, I'm in the tournament."
Djokovic, who has dropped to number 14 in the world, will be chasing a record seventh Australian Open title if he competes in the tournament, which begins on 15 January.
The 12-time Grand Slam champion said potential five-set matches in Melbourne hold some fitness concerns for him.
"There was a doubt, especially after I pulled out of the first week of the year," said Djokovic, who had not played since retiring in the Wimbledon quarter-finals last July.
"I don't say I'm at 100%, I can only say that when I get the feel of a tournament.
"Ideally I would have had another tournament before the start of the Open, but it was not meant to be."
Djokovic, who pulled out of a warm-up tournament in Abu Dhabi last week, easily overpowered Thiem, who only arrived in Melbourne on Monday night after four days in bed with a virus.
"I'm free of fever and healthy again. I'm still jet-lagged and was slow at the beginning of the match but I'll be fine for the Open," the Austrian said.
Andy Murray, Victoria Azarenka and Serena Williams have already withdrawn from 2018's opening Grand Slam while Stan Wawrinka remains a doubt.
Analysis
BBC tennis correspondent Russell Fuller
Djokovic's busy day concluded with an appearance at the Tiebreak Tens exhibition event on the Margaret Court Arena at Melbourne Park.
The appearance was a brief one as he was well beaten by Lleyton Hewitt in the opening match. He was once again wearing a compression sleeve but there was no strapping on his troublesome elbow, and he appears to be playing without pain.
Rafael Nadal played his opening match with the intensity of a Grand Slam final. He beat Lucas Pouille 10-1: that's what two months without competition can do to a man like Nadal.
But there was no Stan Wawrinka. The three-time Grand Slam champion has had knee surgery since his last appearance at Wimbledon and pulled out hours before the start. There is now a major question mark over his participation in the Australian Open.