Related eBooks

Bulgaria's Grigor Dimitrov became the first man for 19 years to win the ATP Finals on his debut appearance with victory over Belgian David Goffin.
Sixth seed Dimitrov, 26, claimed the biggest title of his career as he won 7-5 4-6 6-3 at London's O2 Arena.
The Bulgarian collected £1.9m in prize money for coming through the tournament unbeaten in five matches across the group stage, semi-finals and final.
He will end the year ranked third in the world, with Goffin up to seventh.
"It has been a tremendous two weeks for me," said Dimitrov, who follows in the footsteps of Spain's Alex Corretja, who won the season-ending title on his debut in 1998.
"It is such an honour to play here. This week has been one of the best I have had."
While Dimitrov's season is now over, Goffin will try to help Belgium to a first ever Davis Cup victory against France next week.
"It was a special week for me," said the Belgian. "A week with a lot of emotion and a lot of fatigue. Now I am feeling tired but it was an amazing week."
Finland's Henri Kontinen and Australian John Peers, the second seeds, retained the doubles title they won last year with a 6-4 6-2 win over top seeds Lukasz Kubot of Poland and Brazilian Marcelo Melo.
I am lost for words – Dimitrov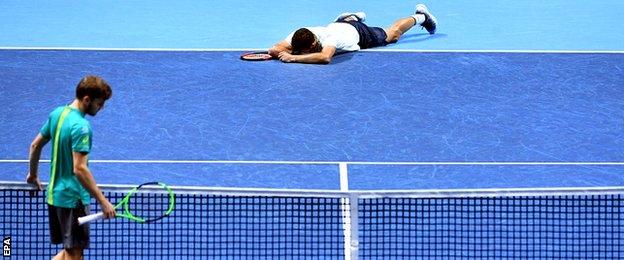 Dimitrov had thrashed Goffin for the loss of just two games only four days earlier in the group stage, but the Belgian proved a far tougher opponent in the final.
Goffin beat top seeds Rafael Nadal and Roger Federer on the way through, and he made the early running as the underdog once again.
Dimitrov had to recover breaks of serve twice in the opening eight games but moved ahead when he converted a fifth set point in game 12.
After five breaks of serve in the first set, the second was a much tighter affair, with Dimitrov missing out on a potentially decisive break in game six after a Hawkeye challenge.
Goffin grabbed his chance in the next game with a forehand winner and confidently served out the set to force a decider.
The final set was a thrilling contest in itself, with Dimitrov fending off four break points in the first game before moving 4-2 up when Goffin sent a backhand long.
With two hours on the clock, and the large Bulgarian contingent chanting "Grigor, Grigor", their man edged to the brink of victory, only for Goffin to serve his way back from 0-40 and three match points down.
The Belgian was given a huge ovation by the 18,000 spectators inside the O2 Arena, and he fended off a fourth match point, before Dimitrov finally sealed it when Goffin dumped a seemingly unmissable drop volley into the net.
"David is such a tremendous guy, forget the tennis," added Dimitrov.
"He can hit the ball well also, so congrats to him. He is one of the most improved players this past week and months. It was an unbelievable effort. I am very proud to play him in the final.
"I am lost for words. My team have been unbelievable, my family."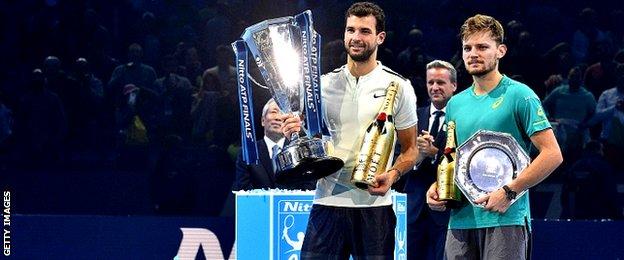 Reaction
Tim Henman, former British number one:"It could be a huge moment in Dimitrov's career, a turning point winning on a huge stage.
"The next step is to get into a Grand Slam final and get one of those under his belt."
Pat Cash, former Wimbledon champion: "I think the Australian Open is the obvious target for Dimitrov, before the other guys get a grasp of their fitness again. It's a good opportunity for someone like Grigor to get to a final or, who knows, even win.
"It was a crazy year last year and I think the guys coming back will take a bit of time. I think we'll see Nick Kyrgios, Alexander Zeverev, and we should see Dimitrov press towards Grand Slam semis and finals."
Analysis
BBC tennis correspondent Russell Fuller
The size of the prize, and the opportunity presented by the absence of Roger Federer, caused bundles of nerves – and also some gripping drama.
A visibly tiring Goffin showed great resilience in the deciding set, until a poor volley prevented him saving a fifth championship point.
Dimitrov won his first Masters event in Cincinnati in August and has now landed the biggest title outside of the Grand Slams. He has always had to deal with huge expectations, and that will only increase when he arrives in Australia in January as the world number three.
This title should give him enormous confidence, and hopefully the springboard to develop further the huge potential he has always shown.