Related eBooks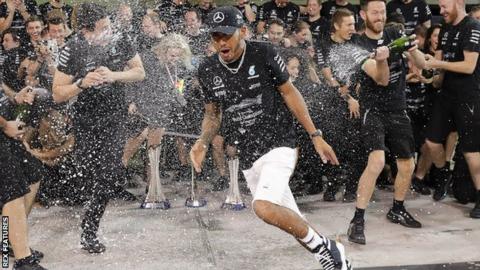 Lewis Hamilton says he has found it difficult to stay at the same competitive intensity for the final two races of 2017 since clinching the title.
Hamilton, beaten by Mercedes team-mate Valtteri Bottas in the season-closing Abu Dhabi Grand Prix, has never won a race in a season after becoming champion.
"I have tried my hardest to stay on it but I wouldn't say it was 100% of what it was while in the season," Hamilton said.
"You want to enjoy it. I do still try and turn up and do the job but it's not so easy."
Hamilton has not won either of the final two races this year after clinching the title in Mexico, crashing in qualifying in Brazil before recovering to finish fourth, and losing out to Bottas in qualifying and race in Abu Dhabi.
In 2015, he won his third title with three races to go and team-mate Nico Rosberg beat him in all the remaining grands prix.
Hamilton said: "It's clear that something happens once you've won the championship.
"All I can say is that in the week after I won the championship, I partied a lot. That's what you do. I didn't do that before the other races.
"The energy has not been the same, even if I have approached the races the same.
"But I'm not worried about that. Next year it will go back to what it was in the second half of the season."
Mercedes team boss Toto Wolff said he had not seen any noticeable drop-off in Hamilton's commitment.
"He is somebody who is very diligent in progressing," Wolff said. "I don't think 2015 has happened. He had an accident in qualifying that happened after he has won the championship. And where that comes from I don't know.
"These guys are pushing the cars to the limit. He didn't put a foot wrong all season. I'd rather it happened after the championship than before.
"Here he looked very good until qualifying and then Valtteri put it all together and I think you just have to acknowledge this was Valtteri's weekend."
Hamilton ended the season with nine wins and 11 pole positions, his title rival Sebastian Vettel of Ferrari on five wins and four poles.
But Bottas dominated the final race at Yas Marina after taking pole position and controlling the race from the start .
The Finn has had an up-and-down first season with Mercedes, winning three grands prix and beating Hamilton in some races early in the year when the team were struggling for competitiveness, but lagging behind Hamilton for much of the season half of there season.
Bottas said: "It is a really important win for me. Pretty difficult start to the second half of the year, working hard into all the issues and getting better and better. This weekend I couldn't be happier to end the season like this."
Wolff said it was "very important" for Bottas to end the season on a high.
"He had a very strong qualifying session and race that he was in control of all the time," Wolff added. "Fair and square racing between him and Lewis and I think carrying positive momentum with a race win through the winter after a difficult time this year is probably for him just what the doctor ordered."
Hamilton appeared faster in the second part of the race after their pit stops but could not pass his team-mate, later complaining that the track should be changed to make overtaking easier.
He said: "It is such a beautiful place but (it would be good) if there was some way to improve the track.
"We have these long straights but we can't get close enough. If there was some way to enable us to get closer in the final sector, it would go up in the rankings of great circuits."